Trainings
Bay Rising offers trainings to our member organizations in Oakland, San Francisco, and the South Bay, as well as aligned grassroots and community-based groups that are interested in partnering with us.
Don't miss future training announcements from Bay Rising. Sign up now to get updates on Bay Rising trainings!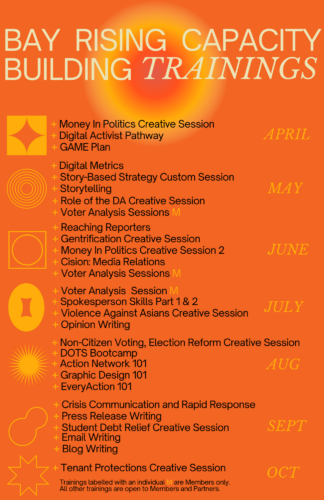 Campaign support
We currently work with local groups in Contra Costa and San Mateo counties to provide tailored campaign support and capacity-building. You can request specific training or coaching from us.
Our training and coaching offerings include:
Action design and support
Campaign consultation and troubleshooting
Campaign staff management
Communications training and media support
Creation of voter materials and guides
Cultural strategy and art builds
Digital and personal security coaching
Executive Director coaching
Field grants
Messaging and framing
Political education for movement work
Race and power in political coalitions
Rapid response management and communications
Research and research coordination
Running c3/c4 campaigns
Voter lists
Voter SMS outreach through Relay
Working with consultants
Affiliate with us
For grassroots, community-based groups that are exploring civic engagement work and are interested in affiliating with Bay Rising, please contact us here.