Context
To advance our vision at the scale and speed our communities need, we have to build and strengthen our movement's leadership on multiple fronts. Over the last few years we have been facing some tough challenges – for instance:
COVID shifting our organizing tactics and disrupting our communities,
local governments in unprecedented budget crises and the backlash against community safety alternatives to policing underscoring the continued need for communications staffing and skills,
limited relationships with aligned elected officials who need our partnership to cogovern effectively,
lack of capacity for research and policy work,
and burnout due to inadequate tools and time for recharging.
All of these issues hinder our ability to win big and win long-term in our pursuit of justice and equity.
We want there to be a streamlined process for building up leaders in our movement. One program is not enough to address all the barriers to leadership development, so we are working with partners and local leaders to create a more thorough approach to leadership development at many different levels. That is why we have five branches in our Rep the Bay Leadership Program: Project Base Build, Campaign Communications, the Progressive Governance Lab, the Rep the Bay Policy Fellowship, and Leadership Resilience. Each of these programs aims to build our leaders up from where they are – whether they are a volunteer at our member organization, newly elected council member, or an organizer of 20+ years.
Our proposal
Project Base Build
We need to win big and win a lot in order to protect what we have fought for, and fight for more!
During COVID, many organizations adjusted their outreach and had to stop using traditional tactics, like door knocking and having events. We are now helping our groups re-energize their organizing work through Project Base Build. With the onslaught of recalls and the influx of money, we also need to be on the offensive in terms of electoral and legislative wins by engaging massive amounts of people, organizing them into structures, and mobilizing those structures. We are regranting funds to our key anchor alliances helping them create an updated organizing strategy. We will then offer organizing trainings, coaching, and support to help implement the plans. Project Base Build will reinvigorate organizing at the Risings and their member groups by:
Developing member leaders at member organizations
Building a sustainable volunteer infrastructure at the Risings
Training up staff on organizing skills and principles, including running data driven campaigns
Registering and engaging enough voters to massively win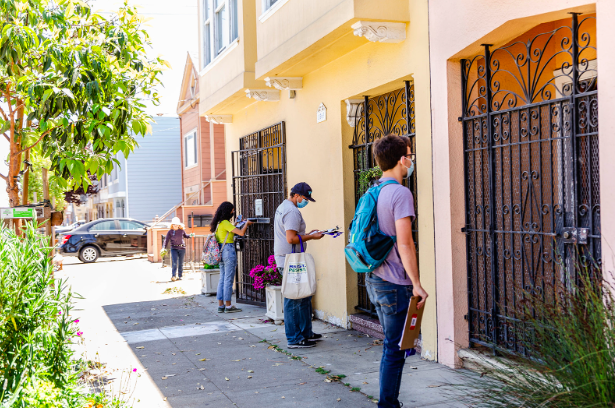 Campaign communications
Bay Rising runs skill-building workshops, coaching, and peer circles for communicators and digital organizers within our network on topics such as media relations, spokesperson skills, digital strategy, and cultural strategy. Bay Rising also coordinates framing and messaging between our member organizations in Oakland, San Francisco and San Jose in support of our collective policy platform. This coordination impacts public debates far beyond local bases and shifts the issue environment to become more supportive of high-impact, progressive equity measures across the region.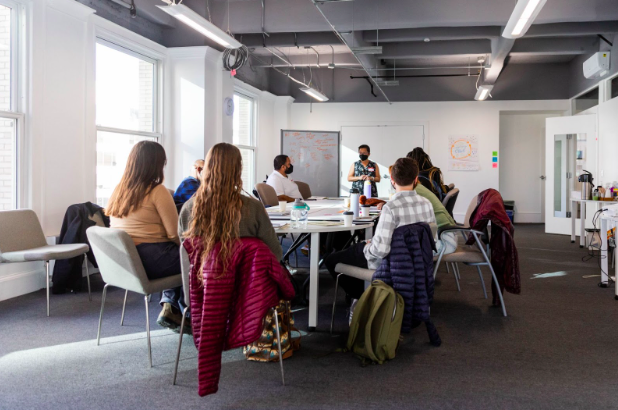 Progressive Governance Lab
More people of color and women are becoming elected leaders, drawing inspiration from local organizing wins and the intensity of this political moment. We need to not only help people who have been most affected by policies become leaders, but also support those who have already won their elected office. Additionally, we want local elected officials to not only reflect the diversity of their communities, but also prioritize the needs and interests of those communities. Our cohort of local elected officials receives training on collaborative governance, and how to bring an organizing and power-building approach to governing. The cohort will have a home with Local Progress for elected official matters, and a home with the Risings for policy and movement accountability matters. We hope to eventually run multiple cohorts of leaders throughout the Bay Area, who will collectively serve as the "progressive bloc" in the Bay, and win progressive majorities in their areas. They will also commit to winning and implementing a transformative, long-term local agenda for racial, economic and environmental justice developed and driven by the Risings.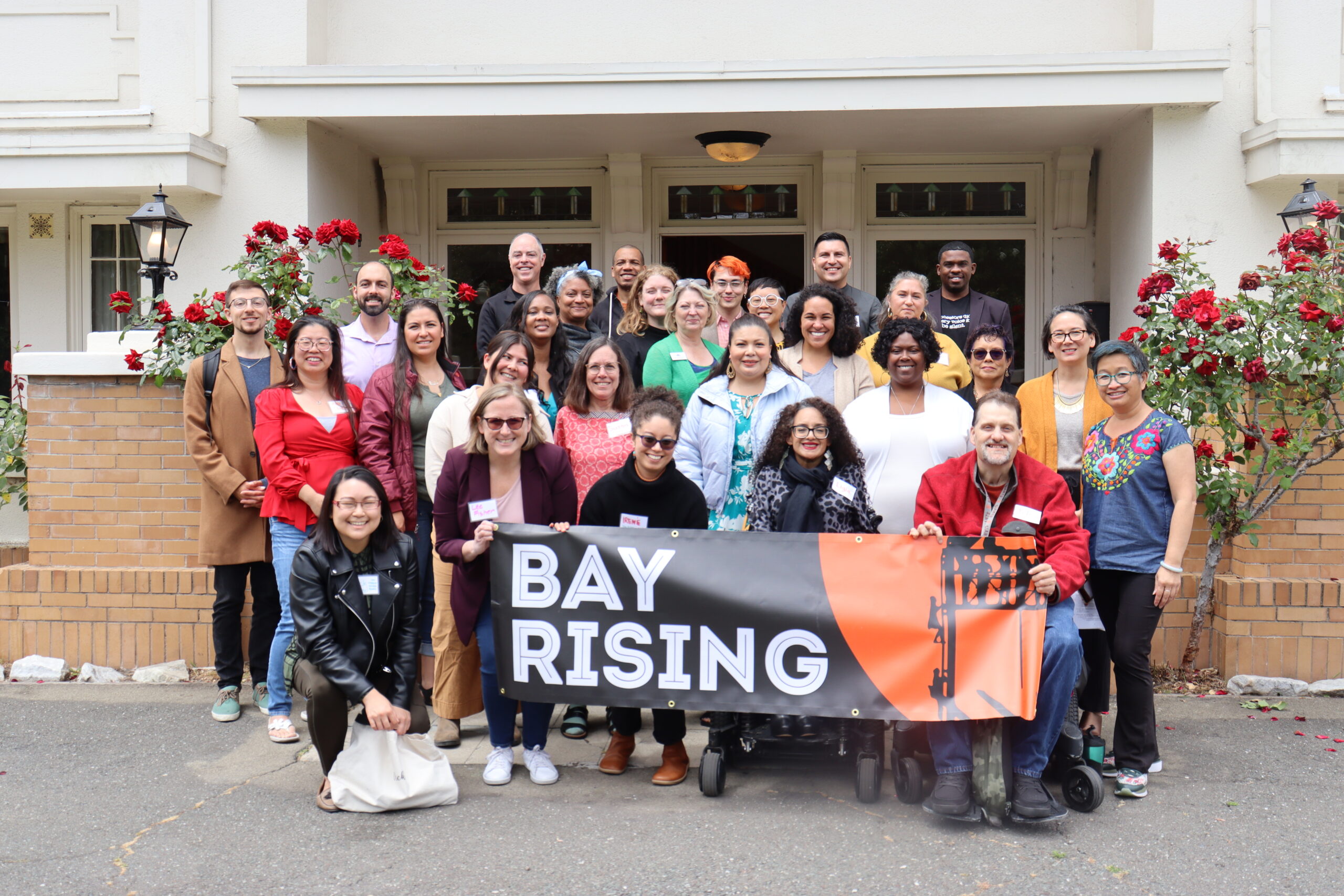 Rep the Bay Policy Fellowship
Many community organizations alone don't have the policy capacity they need to pass legislation in line with our regional agenda. To address this problem, we are currently developing a two-year, full-time public policy fellowship program to provide policy development and implementation support to local host organizations.
Bay Rising will hire, train, and convene the Rep the Bay Policy Fellows, in partnership with local community organizations and policy/research experts. We will also convene an advisory committee of former and current women of color political leaders and their staff to mentor the cohort. The local host organizations will engage with local elected officials to present policy proposals and resources to advance our racial, economic, and environmental justice agenda.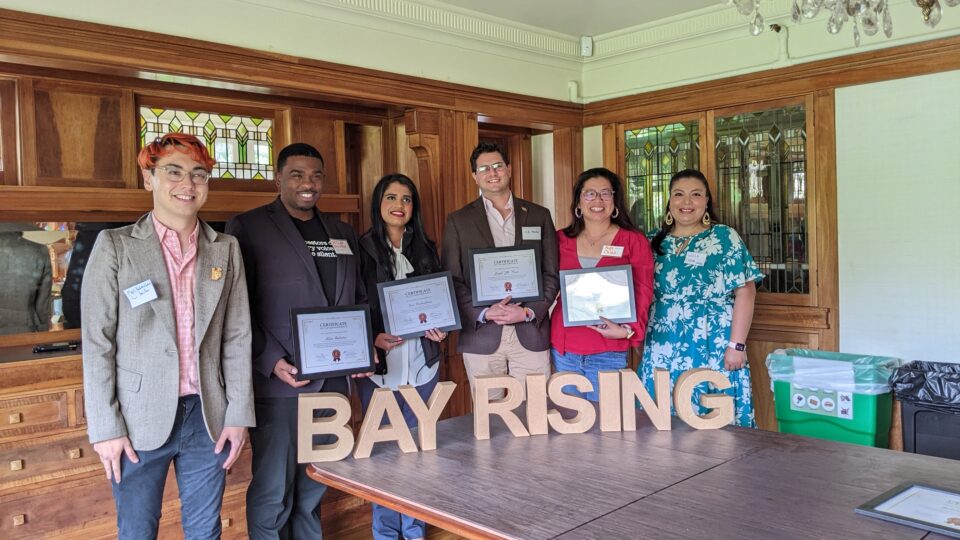 Leadership Resilience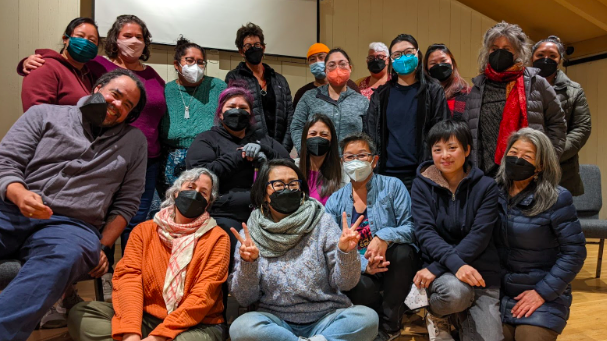 For the past five years, our Leadership Resilience project has been a steadfast source of support for leaders, who have navigated through intense election seasons and the challenges posed by the COVID-19 pandemic. In collaboration with Windcall, a consultancy specializing in transformative retreats and coaching for organizers, particularly from marginalized communities, we have focused on nurturing healing, resilience, and long-term sustainability in our organizations. Our partnership has allowed us to provide virtual and in-person sessions, offering leaders the space to pause, reflect, and rejuvenate. Windcall has supported leaders with 1-3 weeks of much-needed rest, along with dedicated coaching for their personal and professional growth.
More recently, in 2022, we were able to bring our leaders together with their families for a retreat after not seeing each other for years due to COVID-19. It was an amazing opportunity to reconnect and vision for the next five years together.
Bay Rising is committed to continuing our collaboration with Windcall and furthering our investment in resilience work. However, we can't do it alone. We are continuing to fundraise to make sure that we see resilience work ingrained in our organizational culture and social justice movement. As we move forward, we remain steadfast in our commitment to cultivating resilience and supporting our leadership network both personally and professionally.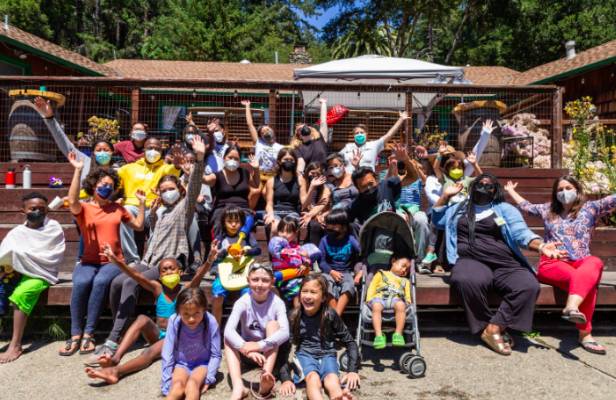 Learn more
Blog posts
What's next
We are currently fundraising for the Rep the Bay Policy Fellowship, Progressive Governance Lab, and Leadership Resilience branches of the Rep the Bay Regional Leadership Program.
We also hope to grow this work in the future, for example by supporting organizers to become lead organizers and campaign managers.
Contact us to learn more about our partnership opportunities.