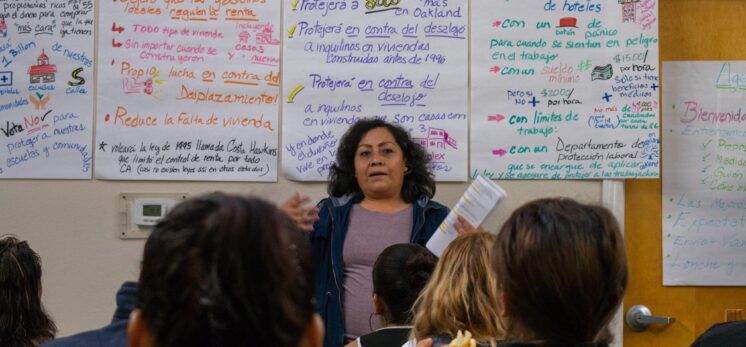 Five years ago, our local city-based alliances and campaigns in Oakland, San Francisco, and San José started Bay Rising. They wanted to create a regional space where local organizers could support and learn from one another, strengthening strategies and building a collective vision for the Bay Area.
The issues we are collectively facing in the Bay Area, from the housing crisis to climate and environmental justice issues to violent policing, are not just based in one city: the economic, political, cultural, and narrative forces at play are active at a regional level. In order to make real progress in any one city or county, we needed to think regionally, and look beyond the major cities in the Bay Area.
For decades, the grassroots organizing happening in the Bay Area was rooted in cities like San Francisco and Oakland. However, as increasing housing prices forced many people and organizers to move away — particularly working people, immigrants, and people of color — our groups needed to decide how to keep building power with their changing and moving communities.
Bay Rising grew out of this need: coordinating our movements for justice in the Bay Area, supporting local organizing, and bringing our strategy and vision to a regional level.
What We've Done
We've grown relationships with communities and organizations in key areas and built the capacity for local organizing efforts to grow there.
Lift Up Contra Costa (LUCC), a county-wide civic engagement table in Contra Costa County, started around the same time as Bay Rising. Kimi Lee, Executive Director of Bay Rising, supported LUCC by facilitating retreats, connecting them with Bay Rising member organizations, and supporting their director to step into leadership. During this time, Bay Rising and LUCC along with regional civic engagement tables in the Inland Empire, Orange County, and San Diego met together over several retreats to build relationships between all the new table directors and coordinate our strategies. This early relationship with LUCC blossomed into an ongoing collaboration; for example, Bay Rising placed a Digital Organizing and Training Strategy (DOTS) fellow with LUCC, and re-granted funds to them as part of our coordinated Census 2020 organizing.
Bay Rising also supported groups in San Mateo County, such as Faith in Action. Faith in Action organizes there around issues of immigration and housing, based on church and faith connections. Bay Rising connected with them to support their work and mobilize voters across the county to get involved in local city elections. In Pacifica and Vallejo, Bay Rising supported organizers by providing voter lists, phones, and training for ballot measure phone outreach and banking efforts.
When the pandemic began in 2020, we had to shift our organizing strategies and tactics, and adapt to keep our communities safe amidst COVID-19. Bay Rising created a multilingual regional COVID-19 Resource Guide to help people living across the Bay Area get food, safe and stable housing, vaccines, workplace protections, and more. Bay Rising also acted as a hub of support for organizations and organizers in five Bay Area counties adapting to the new demands COVID-19 presented, by shifting Census outreach strategy, adapting voter outreach, disseminating critical COVID worker safety and vaccine information through digital and physical outreach, and launching the DOTS fellowship.
What We're Doing Now
Right now, Bay Rising is doing voter analysis following the 2020 Census and redistricting in Alameda, Contra Costa, Santa Clara, San Francisco, and San Mateo counties to assess where our most impacted neighbors are now living and shift future organizing strategies to best support our community members. Providing back-end research of this kind and making the outcomes accessible to organizers and Bay Area residents most impacted by housing, climate and environment, the pandemic, policing, family care needs, and more is key to aligning our regional strategy. Ultimately, this is the blueprint to how we will build the most power for our communities.
Currently, Oakland Rising, one of Bay Rising's local anchors, is rooted in the city of Oakland. In the effort to expand regional collaboration and strategy, and with Bay Rising's support, Oakland Rising is now participating in outreach throughout more of Alameda County through endorsements, voter analysis, relationship building, and voter outreach.
Bay Rising's regional alliance model builds relationships of support to strengthen organizing efforts, our regional vision and agendas, and people power. By joining together and getting aligned on what we're doing to make change across the Bay Area and California, we're supporting both what our communities need and the organizers that put in so much time to make local government work for all of us.