Keep up with our ongoing projects here:
Digital Organizing and Training Strategy Fellowship (DOTS)
---
Digital Organizing and Training Strategy Fellowship:
At Bay Rising, we believe in community-led organizing and the importance of building power for our immigrant, working-class, and communities of color. In the increasingly virtual landscape, DOTS will build the tools to keep our communities organized, supported, and powerful.
We will keep this landing page updated with events, news, and reports of the vital work carried out by the partner organizations and fellows involved in DOTS. Stay connected with us here!
Organizational Testimonies: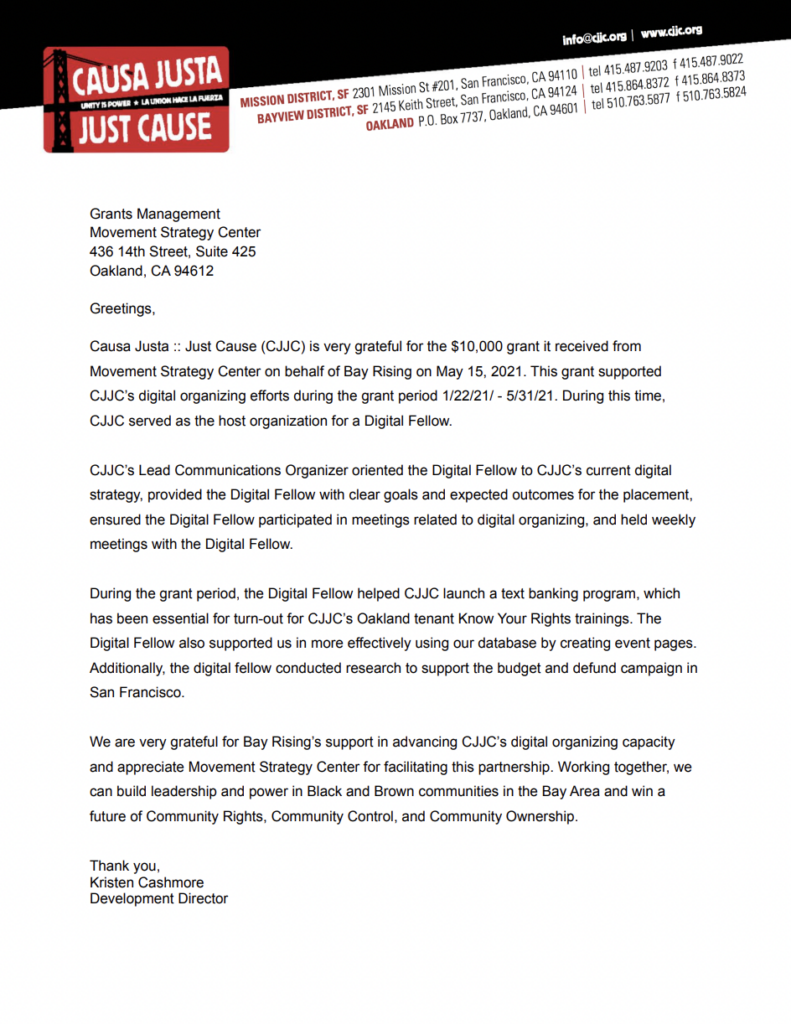 ---
Money in Politics

Oakland elections should be open to all, regardless of income or background.
But right now, money is a barrier to running and winning elections in Oakland. Wealthy interests have dominated recent elections, with corporate groups and even out-of-state billionaires opposing community candidates and pouring millions into local races.

When wealthy donors can swing an election, it's harder for the rest of us to elect folks who reflect our diversity and our values. People of color, working-class people, and first-time candidates face an uphill battle.
A true democracy works for everyone, not just the wealthy and well-connected.
Our coalition first came together to harness the energy and expertise of the many groups working to reform the campaign finance system.

We are focused on advancing small donor public financing as a tool to boost the power of small donors and to enable local candidates to run viable campaigns without wealthy backers.

Fair Elections Oakland includes Oakland Rising; the American Civil Liberties Union of Northern California; Asian Americans Advancing Justice – Asian Law Caucus; Bay Rising; CA Common Cause; League of Women Voters Oakland; and MapLight.
Learn more and get involved here.
Read more:
High-Dollar Donors, Special Interests Continue to Dominate Oakland's Local Elections
From Citizens Divided to Democracy Ignited: How to Address Citizens United Locally
One Year Later: Money in Politics and the January 6, 2021 Capitol Insurrection
Money Talks: From "A Rich Person's Game" to "Democracy Dollars"
Everyone Wins When Our Elected Officials Reflect the Diversity of the Region
Rep the Bay: Diversity in Bay Area Politics and Where to go From Here
Hindsight is 2020: Corporate Campaign Cash and What We Can Do About It
People Power Over Private Interests: How Corporate Interests are Trying to Make Elections Fail Voters and What We Can Do About It
Bay Area Asian Population Strong in Numbers, Vastly Underrepresented in Politics
Despite Progress Since 2018, Bay Area Diversity Not Reflected Among Top Local Electeds
Bay Area's Latinx Population Remains Highly Underrepresented in Local Politics
Bay Area Diversity Still Not Reflected Among Top Local Elected Officials, According to New Analysis from the Bay Area Equity Atlas