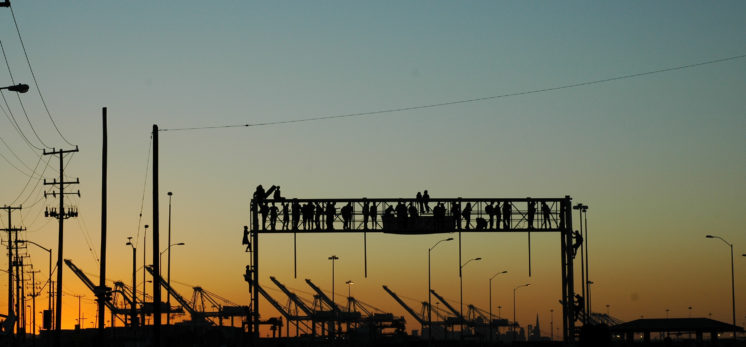 FOR IMMEDIATE RELEASE: Tuesday, March 10, 2020
MEDIA CONTACT: Irene Rojas-Carroll / irene@bayrising.org / 510 439 6648 cell
Safety from public health threats like COVID-19 (coronavirus) comes from community strength and collective action. Our health depends on each other, so let's respond with #PowerNotPanic.
While most COVID-19 illness is mild, we still need to move quickly to protect the most vulnerable people in our communities. The federal government's response is falling dangerously short, and the Bay Area is ground zero given the number of infections here and the divide between the wealthy and people struggling to make ends meet.
Bay Rising's 30+ organizations represent many of the communities who could be hit the hardest by COVID-19 and its impacts to jobs, housing, and more: low-wage Latinx, Asian, and Black workers, tenants, families, and people who are housing-insecure, houseless, or living in crowded conditions.
Local and state governments need to broaden the social safety net to meet the crisis at hand, through solutions including:
See our full list of demands for local and state government below.
Work With Dignity
Expand paid sick leave and pass paid sick leave ordinances, such as the one that San Francisco passed several years ago, that cover an amount of time greater than or equal to the recommended quarantine period for the virus (14 days)
Pass resolutions to support the Families First Coronavirus Response Act, which includes important provisions related to paid sick days, paid leave and Family and Medical Leave Act (FMLA). Key elements include 14 days of immediately available paid sick leave for public health emergency-related illness, caregiving or quarantine; seven days of general-purposes earned paid sick days (essentially the Healthy Families Act); emergency paid leave for COVID-19 related illness, caregiving or quarantine; and a temporary (two-year) update to the FMLA to include public health emergency-related illness, caregiving or quarantine among qualifying leave purposes. The National Partnership is urging Congress to pass this bill as-introduced, and has issued a statement in favor of the bill.
Carry out public education in partnership with the state to make sure workers know how to file workplace safety complaints with local, state, and federal workplace safety regulators, and CalOSHA should increase the number of their enforcement officers to meet demand.
Carry out public education in partnership with the state to make sure people know that they can file an Unemployment Insurance claim if their employer has reduced their hours or shut down operations due to COVID-19.
Pass resolutions supporting Asm. Lorena Gonzalez's new proposed bill, AB 3123. Representatives of the Bay Area in the state legislature should also work to pass this bill. AB 3123 would:

Ensure job security by preventing employers from retaliating against employees when they comply with an isolation or quarantine order issued by a public official due to a public health emergency
Make sure that employees can use their earned sick leave if their place of business is closed by order of a public official due to a public health emergency
Make sure that employees can use their earned sick leave if the employee is providing care or assistance to their child, whose school or childcare provider is closed by order of a public official due to a public health emergency

Ensure equipment and training for all employees–public and private sector–who have contact with the public, for example in health care, airports, schools, hospitals, and public transit systems to keep themselves safe.
Push the tech sector and all employers to fully include subcontracted and gig workers in Coronavirus response plans, and continue engaging with unions and workers' organizations. Last week, Facebook, Twitter, Microsoft, Google, Amazon, and Cisco committed that their hourly and subcontracted workers who need to stay home will be paid their regular wages. We call on the rest of the industry to follow suit so the two-tiered nature of the tech economy does not cause a public health crisis. According to a UC Santa Cruz study in 2016, there are an estimated 77,000 potential subcontracted service workers in San Mateo and Santa Clara County who may be at risk of layoffs; many of them do not have affordable healthcare or paid leave. All employees should be guaranteed their average income for the period in which they are unable to work.
Ensure that the city of Oakland, the port of Oakland, and all entities coordinating the docking of the Grand Princess cruise ship take adequate protective measures for any and all local workers involved in the docking and disembarking of the ship. Workers at the port of Oakland are already exposed to hazards–from pollutants to the roads–on a daily basis.
Create funds to help small businesses and tenants pay rent
Consider small business aid, such as delaying business tax collection and waiving business fees
Create funds for workers who are laid off or furloughed
Support the "COVID-19 Emergency Protections Act" introduced by Assemblymember Rob Bonta. This would require California to do the following during this state of emergency:

Establish uniform statewide regulations for paid sick leave, such as an extension of paid sick time for full-time salaried employees, as well as paid sick time for part-time or hourly employees, independent contractors, or day laborers.
Ensure consumer protections by having utilities provide waivers on late or non-payments so that Californians may continue to have access to vital public goods such as electricity and water
Provide schools with additional protections and waivers related to average daily attendance to protect against loss in attendance (Average Daily Attendance) funding
Continue to provide students in need in public and charter schools with daily nutritional free or reduced-price meals
Protect small businesses from wrongful eviction or closure of business by implementing a moratorium on rent collection or eviction
Provide zero-interest rate loans for small businesses
Justice for Young People & Families
Partner with food banks and other organizations to make sure that in the event of school closure or children staying home sick from school due to COVID-19, children who would otherwise depend on free or reduced-price school lunches have food to eat. The federal government has authorized California to continue providing school lunches; distribution may require trucking or partnering with organizations such as the Red Cross.
Protect the job security of parents who need to stay home with children (see the above section)
Provide access to affordable childcare
Ensure that the state government continues to distribute attendance-related funds to schools while schools are closed due to COVID-19 or precautions against COVID-19
Ensure that schools pay all teachers and staff regular wages in the event of closures
Right to Our Homes
Pass emergency moratoriums on evictions. Join Tenants Together in demanding Governor Newsom to institute protections for tenants during the coronavirus COVID-19 crisis:

An immediate eviction moratorium for tenants in California for the duration of this global public health crisis. Any eviction moratorium passed must extend to all tenants, regardless of their type of work, immigration status, or source of income. Any requirements must reflect the realities many tenants face, including lack of healthcare, and nontraditional employment status, such as gig economy workers and contractors.
Halt all Unlawful Detainer actions across the State. Courts should stop all proceedings related to Unlawful Detainer eviction actions.
Institute a stay of all eviction orders assigned to every Sheriff's Departments around the state. No State resources should go towards evictions while there is an active global health pandemic.

Partner with foundations and community nonprofits to create emergency rent funds for those who cannot pay their rent because of COVID-19. For example, Silicon Valley Community Foundation is managing a $1 million fund for this purpose organized by Sacred Heart Community Service and Destination Home.
Create plans to house the sick, including people experiencing homelessness, other people who do not have a safe, adequate space to be isolated, as an option for health care workers who are likely to be exposed, and for sick people who could be crowded out of hospitals.
Place adequate wash stations, bathrooms, and showers at encampments of people experiencing homelessness, and increase sanitation while also working with residents to make sure that crews don't take away belongings unnecessarily.
Create protocols for shelters and outreach workers to implement around screening for illness and what to do after someone has been screened. This information should be widely available.
Make sure shelters and outreach workers have stashes of surgical masks to give out only to those who are sick or who have symptoms.
Make sure shelters and outreach centers can stay open and provide added support to ensure baseline services for people experiencing homelessness are maintained or exceeded.
Create strict discharge planning protocols for people who were sick and received housing through the end of the quarantine period.
Dispatch teams or create "clinic hours" on site at public housing buildings to ensure that elderly and disabled residents who may have difficulty seeking medical care have access to it.
Ensure that renters will have the right to return to their homes if temporary relocation is necessary.
Ensure that utility companies do not assess penalties or cut off water or power due to COVID-19-related interruptions in payment.
Work with banks and credit card corporations to suspend all fees, foreclosures, and payments, including mortgages, for residents and small businesses for the next three months.
Sanctuary, Safety, & Dignity
Consider temporarily releasing people locked in jails and prisons given the overcrowded, unhealthy, and torturous conditions and inadequate medical staffing inside. Iran, for example, has temporarily released 54,000 imprisoned people to prevent COVID-19 from spreading.
Dispatch medical teams to jails, prisons, halfway houses, and other locked facilities to assess and treat patients. Physicians on-site must have the authority to dictate necessary changes in facility conditions in order to treat the sick and stem the spread of the illness.
Strengthen and redouble enforcement of local sanctuary laws to ensure that undocumented people are not discouraged from seeking treatment or testing. Refuse to allow ICE and Border Patrol officers into hospitals and public buildings.
Call on the federal government to suspend ICE raids so that vulnerable patients won't be deterred from seeking help
Seek commitments from public health authorities, law enforcement, prosecutors, and immigration authorities that disclosure or failure to disclose COVID-19 symptoms will not under any circumstances lead to criminalization, family court involvement or involvement of immigration authorities.
Offer a safety hotline (which is not routed to law enforcement) that people who experience racist or xenophobic violence related to COVID-19 can call for assistance.
Carry out aggressive public education about the illness, how it spreads, and best safety practices. These educational efforts must also actively dispel racist, xenophobic assumptions about the disease, such as racist characterizations of Asian people representing a public health threat.
Prevent individual hoarding of masks fueled by panic and wealth disparities.
Communicate all emergency efforts in multiple languages.
Community Control
Make sure any task forces include community seats for the people who would be most impacted by decisions about government response to COVID-19
Release information about the disembarking of the Grand Princess of the Port of Oakland so the community and other local bodies can take appropriate protective measures. Authorities stated that the people disembarking from the Grand Princess at the Port of Oakland who are in need of hospitalization will be sent to "appropriate medical facilities around the region." They must be transparent. What number of individuals, how will they get there, and where will they go? To what extent are these facilities prepared, especially to prevent the kind of hospital spread we have seen locally, across the country and around the world? And given new evidence of potential fecal spread of COVID-19, how will waste from the ship be handled? Where and by whom? *
Other Public Health
Pass resolutions in support of a #CAGreenNewDeal that includes the right to universal single-payer health care. Representatives of the Bay Area in the state legislature should also work to pass the #CAGreenNewDeal.
Offer vaccines free of charge when available.
Demand that the federal government provide aid to cover the additional expenses states, cities and counties will incur.
Set up 24/7 hotline numbers for people to ask questions about COVID-19 and get information. Several counties in California have created their own hotlines, including Sonoma. Calls to the hotline must remain anonymous, and must not under any circumstances lead to any involvement of law enforcement, ICE, or detention of callers against their will as a result of using the hotline, and this must be made clear to public health authorities, law enforcement, and callers.
Offer help to enroll in Medicaid or local health plans, such as the San Francisco Health Plan under Medi-Cal, so that more people will have access to care.
Offer free testing for all, including uninsured people. Tests have been in short supply in the US; we find this inexcusable, given that other countries have managed to mobilize mass testing. The government's failure to provide and administer tests means that, at this point, we have no idea how many cases actually exist in the US or how far the illness may have spread. Doctors in affected areas have complained that they have no tests to administer or that health officials have not allowed them to administer tests for COVID-19. This is a disastrous failure on the part of the Trump administration and must be addressed immediately. We need reliable tests that are readily available to clinicians and administered at no charge. Local governments should consider encouraging hospitals and health offices to use solutions like drive-through testing.
Offer free care for those who test positive to ensure that those who are uninsured receive care and participate in measures that help slow the spread of the virus.
Offer financial and material assistance plans for people who are expected to refrain from working. It is not realistic to tell people not to leave their homes if failing to do so means they will lose their homes or go without food or medicine. Containment must be made accessible.
Pressure the federal government to address supply issues, including shortages in protective gear, testing kits and ventilators–and in the absence of a federal response, provide the needed materials.
Include transportation assistance and accessible care for patients with disabilities in local COVID-19 plans. Develop these guidelines in collaboration with disabled people and public health officials, and respect the rights and autonomy of people with disabilities.
* Demands put forth on Monday March 9 by East Oakland Building Healthy Communities and Roots Community Health Center.

Thanks also to the Partnership for Working Families and the group of grassroots organizers working in collaboration with doctors, scientists and nurses who drafted this list of demands.