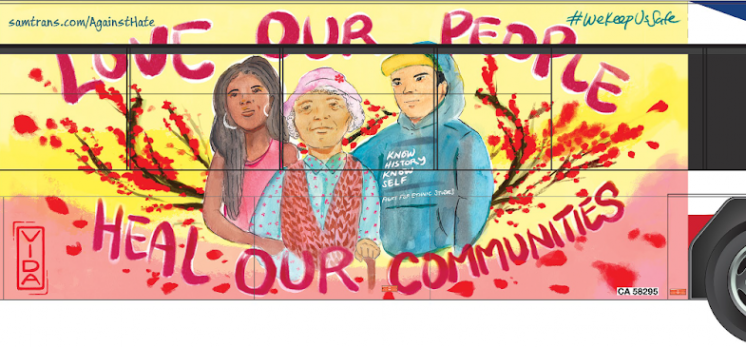 featured image of bus mockup: credit SamTrans, art by Vida Kuang
FOR IMMEDIATE RELEASE: Wednesday, June 9, 2021
Media contact: Irene Rojas-Carroll, irene@bayrising.org
Bay Rising, the Bay Area's only regional civic engagement alliance, today released the following statement regarding the new public art announced for SamTrans buses:
"The Bay Area is our home, and everyone deserves to feel valued, safe, and loved in the place we call home, no matter what we look like or how much money we have in our wallets. We're heartbroken by the attempts of certain politicians to use the recent attacks on Asians to divide us against each other and continue over-policing Black and Brown neighborhoods, which keeps valuable public resources from all of us.
"We're grateful that our coalition-building across the Bay Area is blossoming and spreading the message of multiracial solidarity to different cities, including San Mateo. We're excited to be in partnership with the San Mateo Anti-Racist Coalition, SamTrans, and local artists like Vida Kuang who inspire our communities. Ultimately, this vibrant art shows us that though our communities are in pain, we can heal and keep each other safe if we come together. We look forward to amplifying more local artists' voices in support of healing and restorative justice programming, community safety infrastructure, and resources for survivors of violence across the Bay Area."
Bay Rising connected artist Vida Kuang to the SamTrans effort via the San Mateo Anti-Racist Coalition, after supporting a series of rallies in San Francisco and Oakland addressing the spate of anti-Asian violence. The alliance is also working with local artists in partnership with the Anti Police-Terror Project, Causa::Justa, Coleman Advocates, Black Organizing Project, and Community READY Corps to expand the ongoing conversation about shifting money from policing to other community services.
###