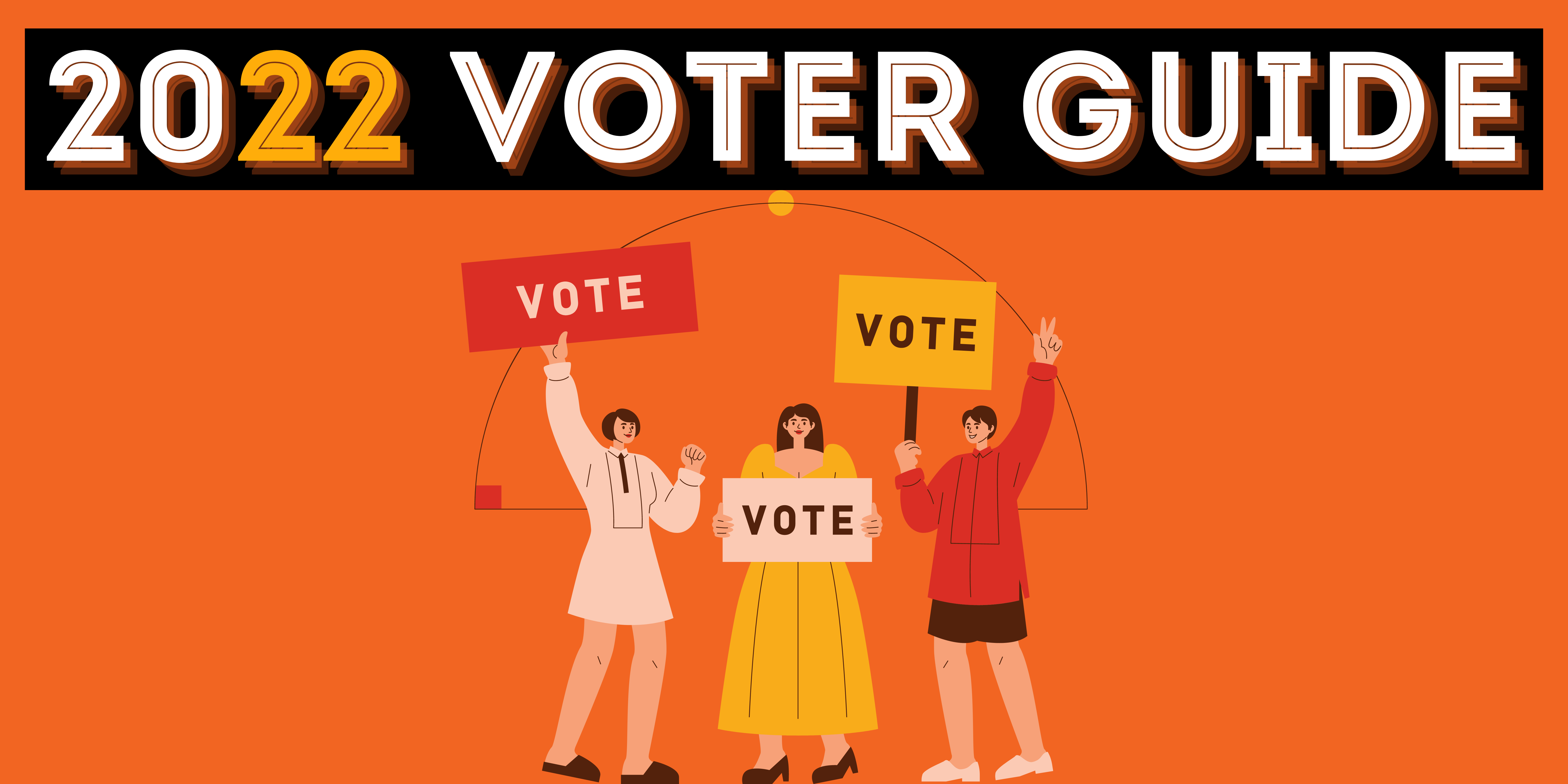 Find a complete summary of our 2022 Endorsements here.
YES ON PROPOSITION 1: Protect Abortion Rights in California Constitution
Most of us believe we should have the freedom to decide for ourselves whether and when we have children. That requires accessible abortion care. This measure adds the right to abortion into the California Constitution to ensure people continue to have the power to control their own bodies and decisions.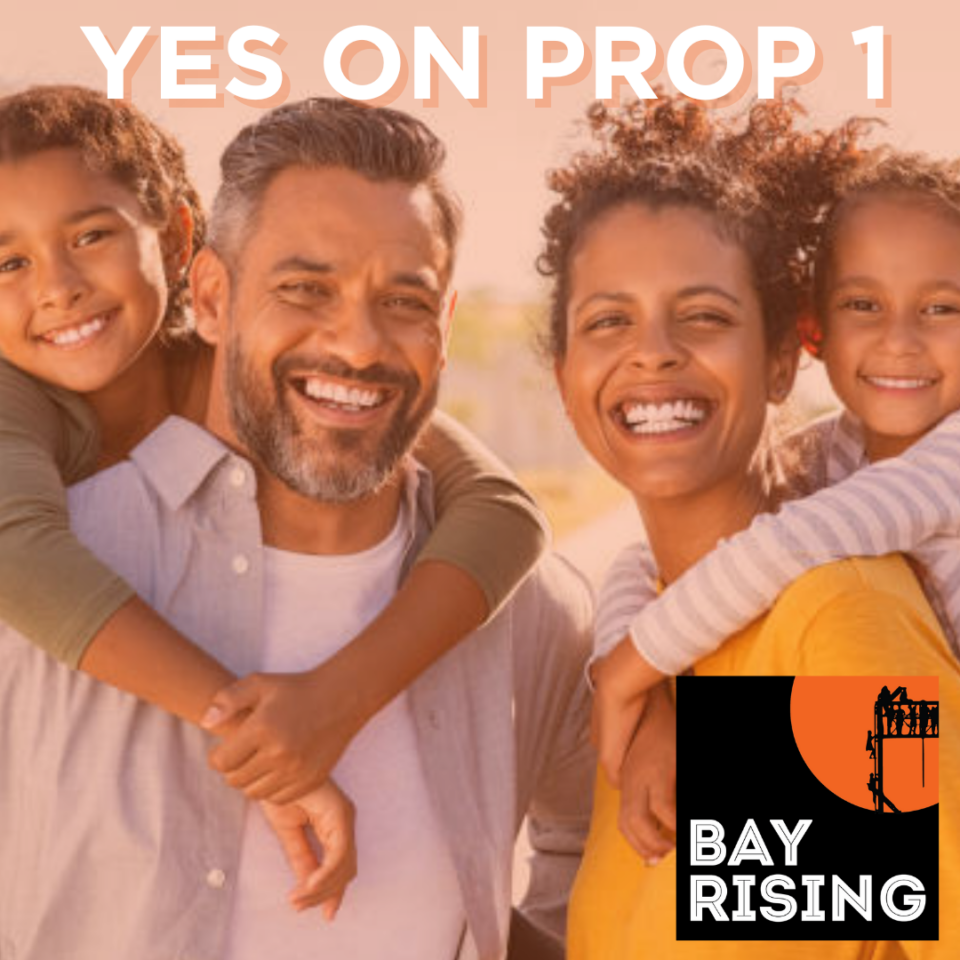 Prop 1 will amend the California Constitution to explicitly prohibit the State from denying or interfering with personal decisions related to abortions and reproductive care. It declares that individuals have a fundamental right to decide to have an abortion and to use or refuse contraceptives. As the US Supreme Court, radical right-wing forces, and state legislatures across the country attempt to take away the right for people to decide if, when, and how to have a family, Californians need protection to assert our freedoms. People of color, low-income people, and gender non-conforming people are disproportionally impacted by the restriction of reproductive freedoms, and our community must show up in solidarity.
NO POSITION ON PROPOSITION 26: Allow Tribes to Run Sports Betting on Their Land
California currently bans sports betting, and this is the first of two measures that would alter that. Prop 26, the narrower of the two measures, would allow and tax sports betting in person at Native American casinos and four-horse tracks across the state. Since colonization and the theft of Native land that created modern California, resources for tribes have been limited and gambling has become a consistent source of revenue for the original stewards of California's lands. Ten percent of the revenue raised for the state would go to programs to mitigate gambling addiction. However, the negative impacts of gambling harm poor and working-class people disproportionately, including addiction and financial impacts. What's more, this measure doesn't explicitly speak to the experience of workers at these facilities, and California's labor movement has stayed neutral on the issue. If Proposition 26 and Proposition 27 both pass, it's unclear which one would take precedence, and lawsuits would likely ensue.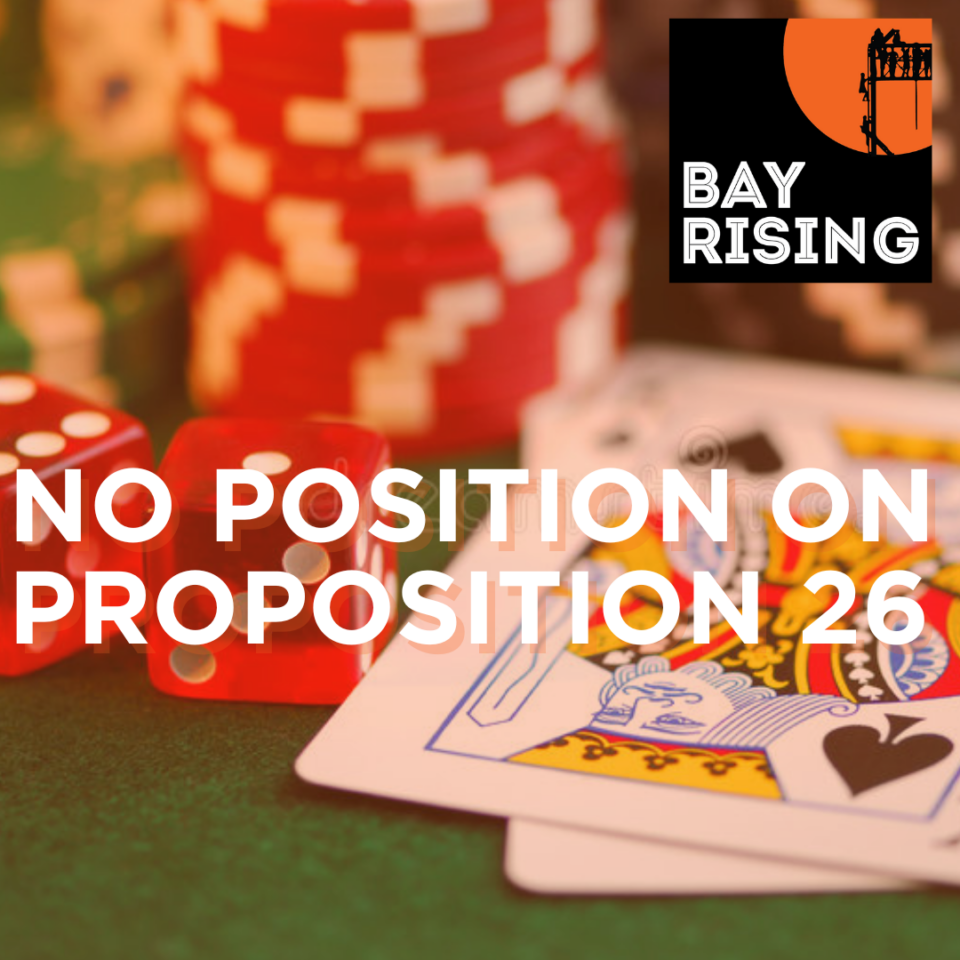 NO ON PROPOSITION 27: Legalize Online Sports Betting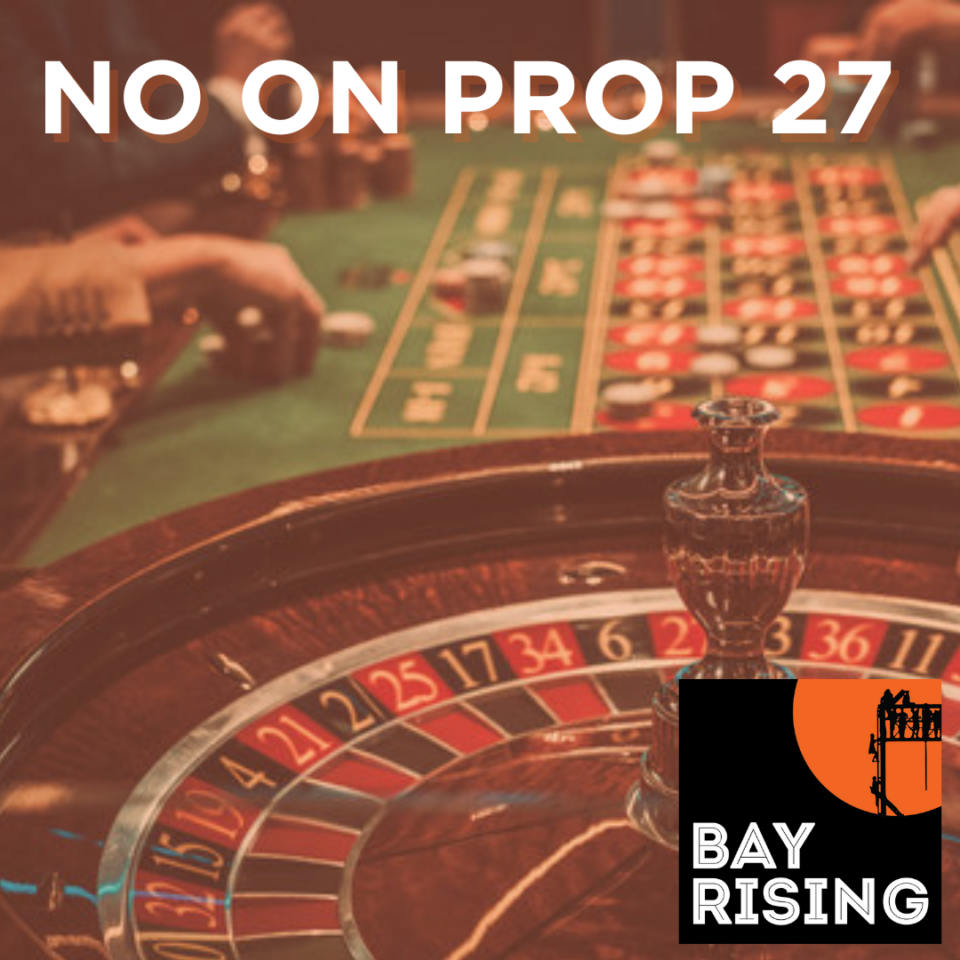 The second of two measures that would legalize and tax sports betting in California is the far more expansive measure with much more profit at play. This allows sports betting online, which would benefit the handful of tribes that would lend their license, but it would mostly create profits for the out-of-state corporations like FanDuels and DraftKings that are funding the measure. However, the negative impacts of gambling, including online sports betting, harm poor and working-class people disproportionately – including addiction and financial impacts. This measure would open the floodgates here in our state. Though the taxes raised would be directed to mental health services and people who are homeless, where the funds are sorely needed, the numbers don't pencil out to make this measure worth supporting. If Proposition 26 and Proposition 27 both pass, it's unclear which one would take precedence, and lawsuits would likely ensue. We urge you to vote NO on Prop 27.
YES ON PROPOSITION 28: Guarantee Arts Funding for Public Schools
California public school students are currently required to take art classes to graduate, but our underfunded schools are not guaranteed funding to ensure that arts programming is robust and beneficial, especially in working-class communities and communities of color. This measure would guarantee that 1% of the state's education funding goes to the arts, prescribe that 80% of that funding goes to training and supplies, and would direct more funds to schools serving disadvantaged students. More teachers would get hired, and more students would benefit from attention to the arts.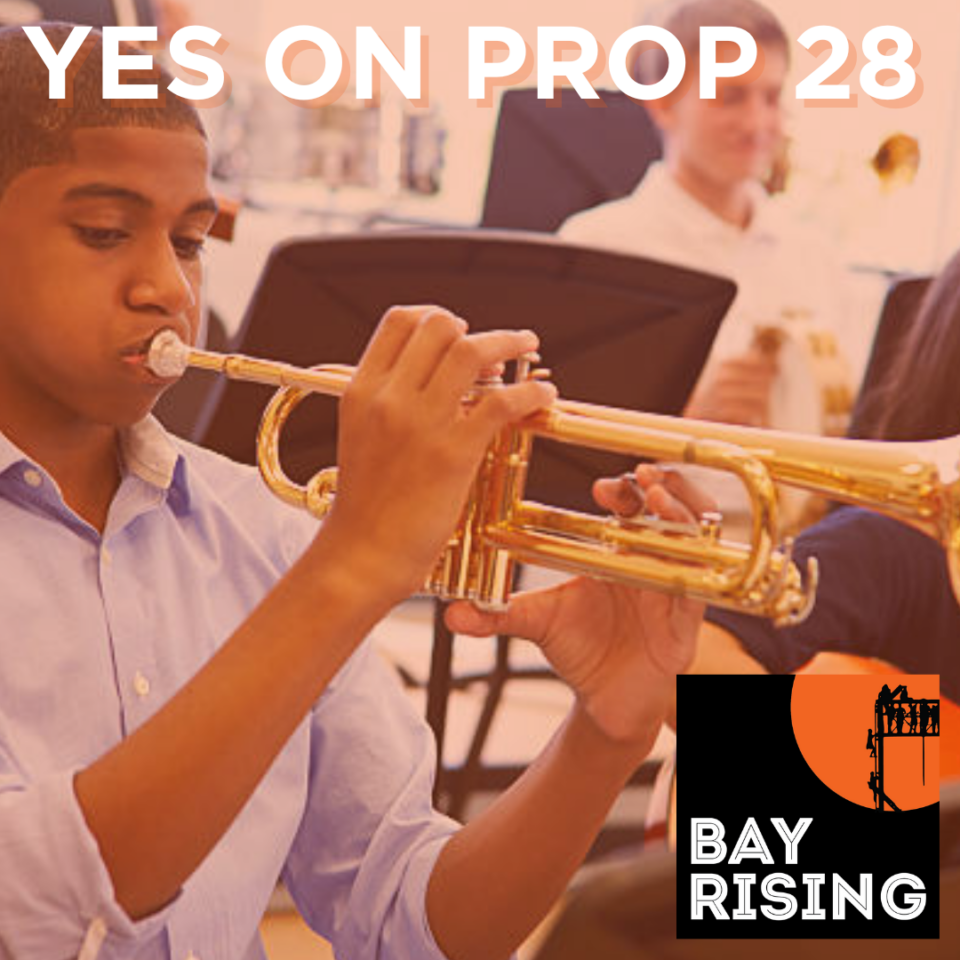 YES ON PROPOSITION 29: Require Medical Oversight of Dialysis Clinics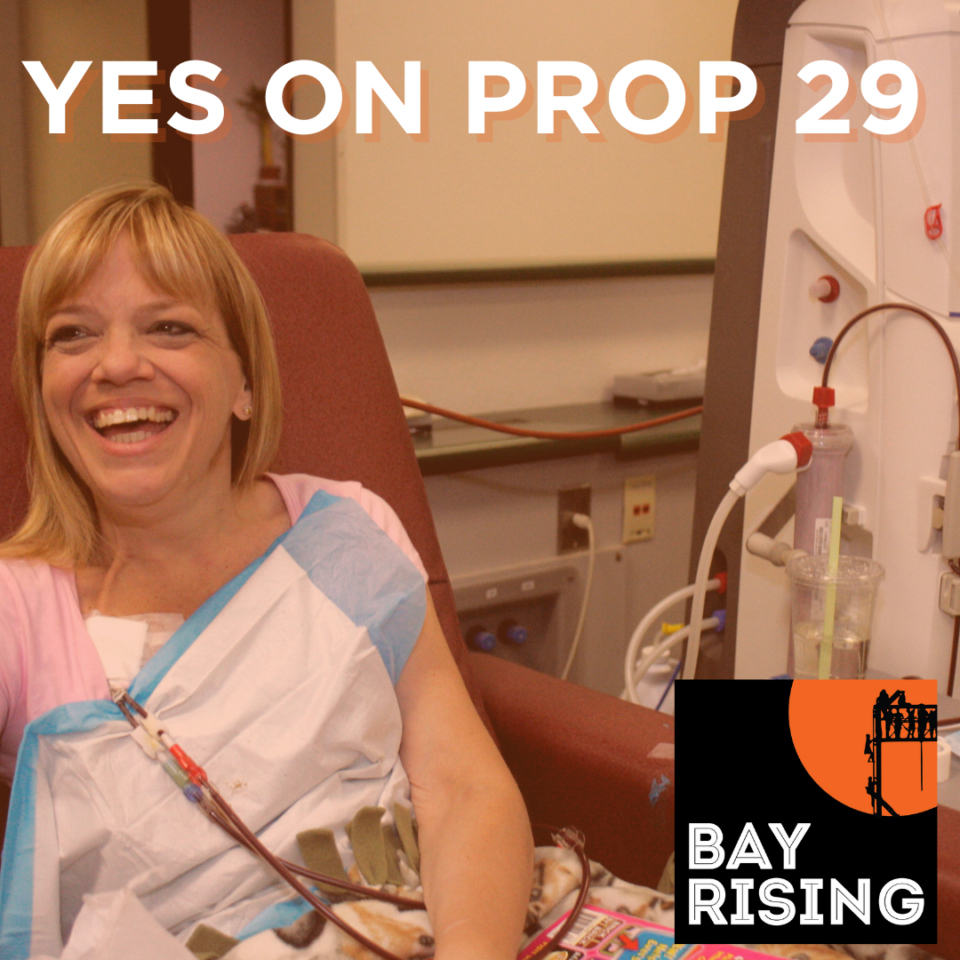 80,000 people in California use dialysis to treat kidney conditions at 650 clinics across the state. However, just two corporations operate most of those clinics, and they are making massive profits while understaffing these vital medical centers and creating unnecessary risks for patients. This is the third time that healthcare workers have placed this ballot initiative in front of voters. Both previous efforts were lost after dialysis companies spent millions to defeat them. To ensure that dialysis patients have proper and safe supervision at clinics, Prop 29 would require a doctor, nurse practitioner, or physician's assistant to be onsite while operating. This time, an additional transparency measure would also force clinics to disclose if a doctor has more than a 5% ownership stake in the clinic, which is a positive development. Kidney disease disproportionately impacts poor folks and people of color, and greedy corporations need to do their part to ensure workers' protection and patient safety. Vote yes on Proposition 30.
NO POSITION ON PROPOSITION 30: Tax Millionaires to Fund Electric Car Subsidies
California passed a mandate to make all cars sold in the state electric by 2035, to clean our air and protect the climate. This measure would implement a tax on people making over $2 million a year, and drive most of that funding to tax subsidies for people buying electric cars to meet that mandate, with additional funds going to wildfire prevention. The goal of replacing dirty polluting cars on our roads with cleaner electric cars is a laudable one: emissions from cars disproportionately impact the lungs and lives of working-class people of color in our neighborhoods, and this law would set aside funds to make it easier for low-income people to buy cleaner cars.
However, Governor Newsom has come out against the proposition, calling it a corporate giveaway to the company Lyft, which is looking to get state money to fund its transition to electric cars. In addition, this measure is an example of "ballot box budgeting", since it puts strict rules in place for where our dollars can go, potentially shortchanging other worthy causes and limiting our ability to allocate our resources effectively. We're not taking a position.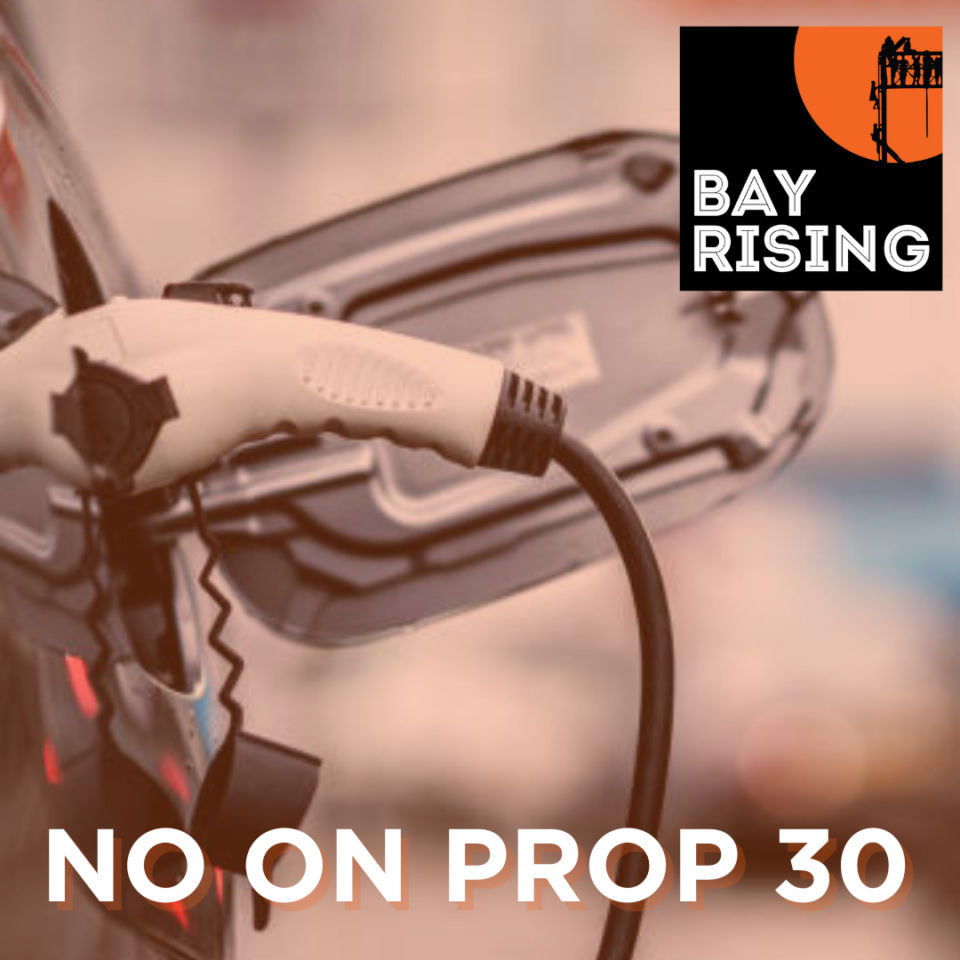 YES ON PROPOSITION 31: Keep Ban on Flavored Tobacco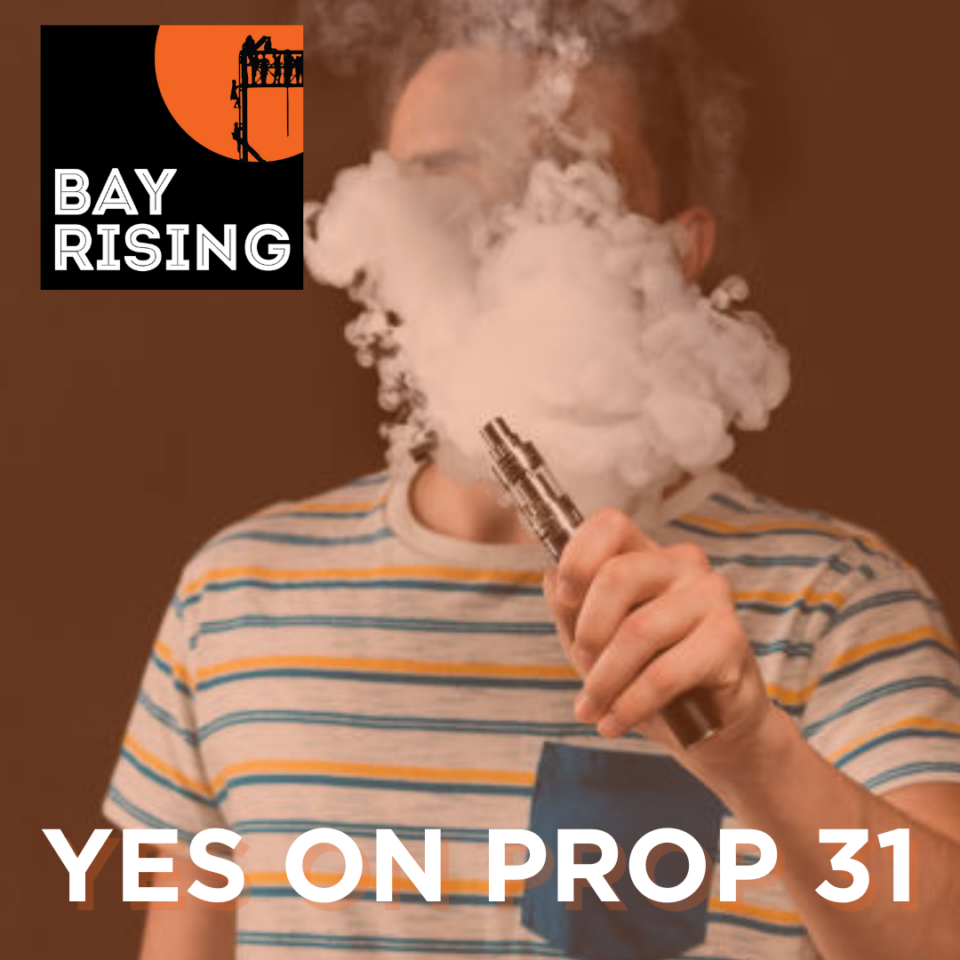 Big Tobacco corporations have targeted young people, particularly youth of color, by promoting flavors such as mango and cotton candy. These companies see profits in getting kids hooked on their dangerous and unhealthy products. And in large part, it has worked – youth report in large numbers that they started smoking through flavored tobacco. The legislature passed a law two years ago banning the sale of these products, but the monied interests have spent millions to stop the law from going into effect and put this referendum on the ballot. A "yes" vote will result in keeping our ban on flavored tobacco.
Ad paid for by Bay Rising Ballot Action Committee sponsored by Center for Empowered Politics.
Committee major funding from:
Katrina Schaffer
Not authorized by a candidate or a committee controlled by a candidate.