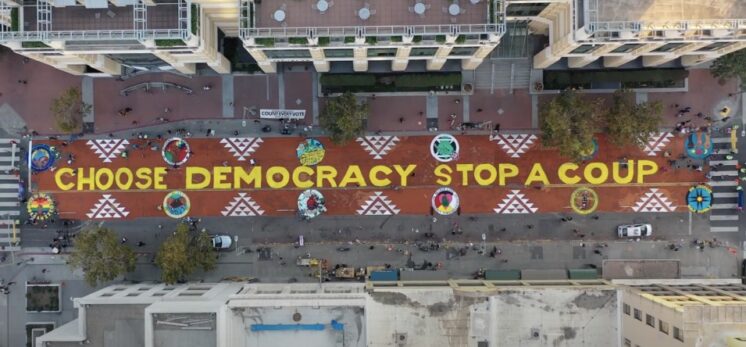 Common Dreams / November 2, 2020
Last Thursday, people from Oakland and the Bay Area carrying chalk, brushes, and buckets of paint, took over and painted 14th Street in downtown Oakland. A group of grandmothers who call themselves 1000 Grandmothers for Future Generations set up blockades on both sides of 14th Street, directly next to the Oakland Federal Building.
Kimi Lee, leader with Bay Resistance who co-organized the street mural said, "We have to prepare ourselves to defend the election and democracy. We may not know results on Tuesday, and the election could get dragged out for weeks or months. November 3rd is not the end of our fight, it is just the beginning. This mural is a call to everyone that we need to choose to defend democracy and build the kind of world that we want together.  Art and music are so important right now to give people energy and to bring us together. We hope that this mural inspires others to come out and join us."
Read article here!