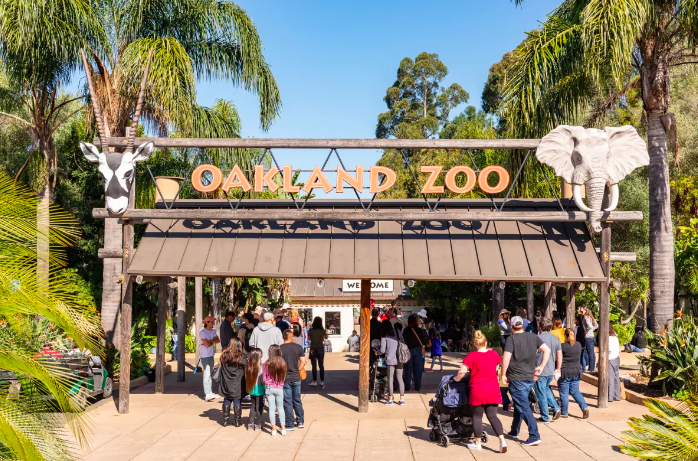 The Oaklandside / July 20, 2022
Oakland residents this fall will vote on a proposed parcel tax designed to help fund the Oakland Zoo. The City Council on Tuesday voted to direct the city clerk to submit the measure for the Nov. 8 general election ballot.
In a memo sent to the council, Alameda County Registrar of Voters Tim Dupuis said the petition qualified for the ballot based on a sampling of signatures gathered. If passed, the 2022 Oakland Animal Zoo Care, Education, and Improvement Ordinance would help pay for capital improvements, educational services for youth, and staff who care for the zoo's more than 850 animals.
The rate would be set at $68 per parcel annually and $68 per unit in multi-residential units. Very low-income households and qualified seniors who are above age 65 would be exempt from the tax.
The zoo's financial health took a hit during the coronavirus pandemic's economic shutdown. Closed to visitors for several months in 2020, zoo officials feared the institution would close permanently. Costs of maintaining the zoo and caring for animals, even as no revenue was coming in, resulted in some layoffs and uncertainty about the zoo's financial reserves.
The ballot measure and signature-gathering effort are supported by the Oaklanders for the Oakland Zoo, a campaign committee with funding from the Conservation Society of California, a group of volunteers led by a board of trustees who manage and operate the zoo and provide oversight of its mission and policies. The Conservation Society of California has donated $200,000 so far this year, according to campaign finance records.
The zoo is located above Interstate 580 in the 500-acre Knowland Park, which puts it at risk of wildfires. Fire safety improvements would include making animal shelters fire-defensible, improving access and exit roads, purchasing animal transport vehicles, and adding irrigation and sprinkler systems. Zoo officials also want to increase the number of annual free passes donated to low-income families.
What else is on the November ballot—so far
The zoo parcel tax proposal joins the list of measures on the Nov. 8 ballot. Oakland voters will also decide on a progressive business tax, term limits for council members, a "democracy dollars" initiative that would rewrite the city's campaign finance rules to encourage more people to get involved in the financing of elections, an $850 million infrastructure bond measure, and the expansion of the "just cause" eviction policy.