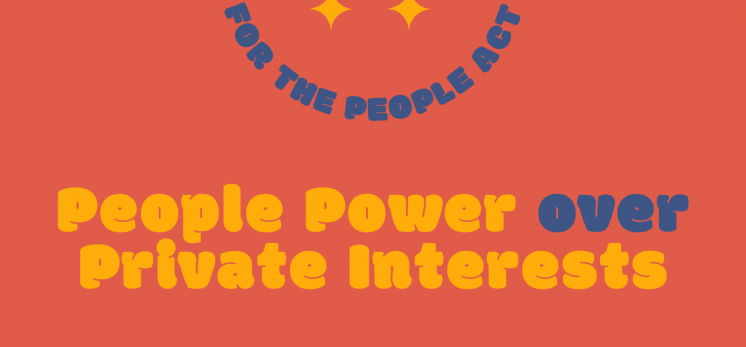 How the For the People Act will make voting easy, accessible and equitable.
No matter our background, race or zip code, we all deserve the ability to participate in our democracy without barriers. Most of us can agree that we want ourselves, communities and loved ones to vote in a way we can trust, with equal freedom and access. Despite Americans showing up to vote in record numbers in 2020,  there are still a handful of politicians putting up barriers to silence our voices and our votes. Corporate interests pour billions of dollars into our elections, yet these politicians are keeping us in the dark about where that money is coming from and how campaigns are using them. It's time we had nationally enforced standards for voting to ensure we all have a say in decisions that affect our health, loved ones, and livelihoods.
The For the People Act (H.R. 1 and S. 1) was originally introduced by John Sarbanes in 2019. After the House passed the bill, then-majority leader Mitch McConnell blocked it from receiving a vote in the Senate. In 2021, congressional Democrats re-introduced the bill as H.R.1 and S.1. It passed in the House again on March 3, and is now advancing to the Senate — which is split between Democrats and Republicans, with Vice President Kamala Harris holding the tie-breaking vote. The For the People Act will ensure that Americans can safely cast our ballots and our elections truly reflect our communities' desires. This is why it is imperative we are able to pass the bill in the Senate, and move toward lasting election reform that will build power in our communities.
When the richest few buy elections by pouring billions into campaigns without strict regulation or guidelines for transparency, private and corporate interests undermine the will of the people. To fix this dangerous and elitist practice, the For the People Act creates:
Requires Super PACs and "dark money" political organizations to make their donors public and creates an  "honest ads" policy that requires online political ads to disclose clearly who is paying for them
Automatic voter registration, ensuring more people are signed up to vote and diminishing barriers in voter registration.
Prohibits coordination between Super PACs and candidates
Establish public financing of campaigns, meaning campaigns are powered by small donations from the people, instead of massive donations by corporations or dark money donors.
The bill will make Election Day a federal holiday
Credit: Washington Post, Christopher Ingraham, Adapted from Stephen Nass
Prohibit voter roll purging as well as ensuring that early voting, vote by mail, ballot tracking & curing (the process of correcting mailed-in ballots) and pre-paid postage are equally accessible to voters in all states.
Gerrymandering and other barriers to voting hit our low-income, working-class, and BIPOC communities the hardest — making it difficult for these communities to vote for the candidates and measures that truly reflect their values and support their interests. Public financing boosts the voices of people of color, allows for more diverse candidates to run and have a chance at winning, and levels the playing field. By establishing real campaign finance reform, the For the People Act leads the way for voters to have full transparency on who or what they are voting for, prioritizing community interest over special interest. The For the People Act prioritizes voter accessibility across all states, moving us closer to true representation and power-building for our communities in the Bay.
By ensuring that voting options are equally accessible across all states, preventing billionaires from buying our elections, and prioritizing electing leaders who govern in our interests by having congressional districts drawn to ensure fair representation for all, the For the People Act will better all communities across the US, including those across the Bay. By specifically addressing many of the barriers that disproportionately affect Black and Indigenous communities of color and low-income voters, the voting process with the For the People Act will empower more BIPOC voters to make their voices heard, and vote on behalf of our communities.
The issues the For the People Act seeks to solve remain prevalent not only on the national level, but in our communities across the Bay as well. Emboldened by a lack of accountability or transparency, private interest groups throw millions of dollars at disrupting and attacking progressive and grassroots candidates and campaigns. By tackling campaign finance and voting rights reform nationwide, the For the People Act will dismantle the forces that destabilize our elections here in the Bay.
You can take action to support the For the People Act now, by emailing or calling your Senators, volunteering, or sharing your support.