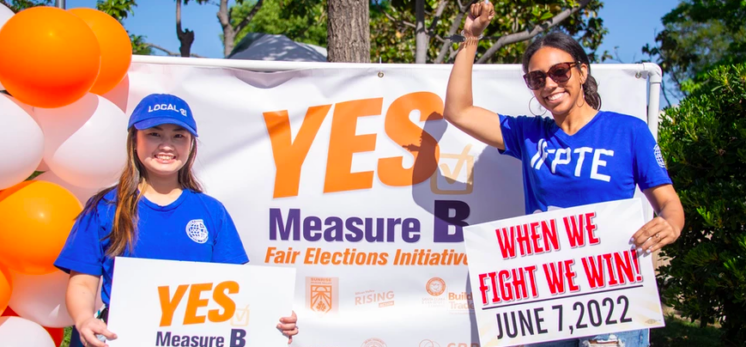 June 9, 2022
Cross-Posted with Silicon Valley Rising Action
Maria Noel Fernandez, SVRA Director

With a majority of ballots counted, the results speak for themselves: San José passes Measure B — check out election night reporting here.
We did it: San José just became the first city in the Bay Area to approve moving the mayoral race to presidential election years, a huge step towards increasing voter turnout and ensuring a more representative electorate!
This victory happened because voters across the city turned out to the polls and said YES to Measure B — the Fair Elections Initiative — in order to strengthen our democracy for all. It is because of people like you who rallied, fundraised, volunteered and spread the word about Measure B that we are able to celebrate this victory.
Today, I am reminded of just how far we have come together.
Years ago, we asked ourselves 'how we can make the promise of democracy true for all San Joseans?'. We knew there wasn't one simple solution, but instead the need for a collective commitment to changing the status quo that has failed our communities before.
In 2014, the last competitive mayoral race in San José, less than half of eligible voters cast a ballot. That means, our mayor was selected by only about 25% of voters.
Yet, we've seen cities like Baltimore lead the way by moving their mayoral races to coincide with the presidential election, a time when more people turnout to vote. The result? Voter participation rose from 13% to 60% according to the National Civic League.
Now, we are leading the path forward here in the Bay Area. By moving our mayoral race, we are sure to see similar results, especially amongst communities who have been most often silenced. This is a major victory, and it's only the beginning. We will continue to work together to strengthen our democracy and make our elections a more fair, representative process for all. 
In solidarity,
Maria Noel Fernandez
SVRA Director